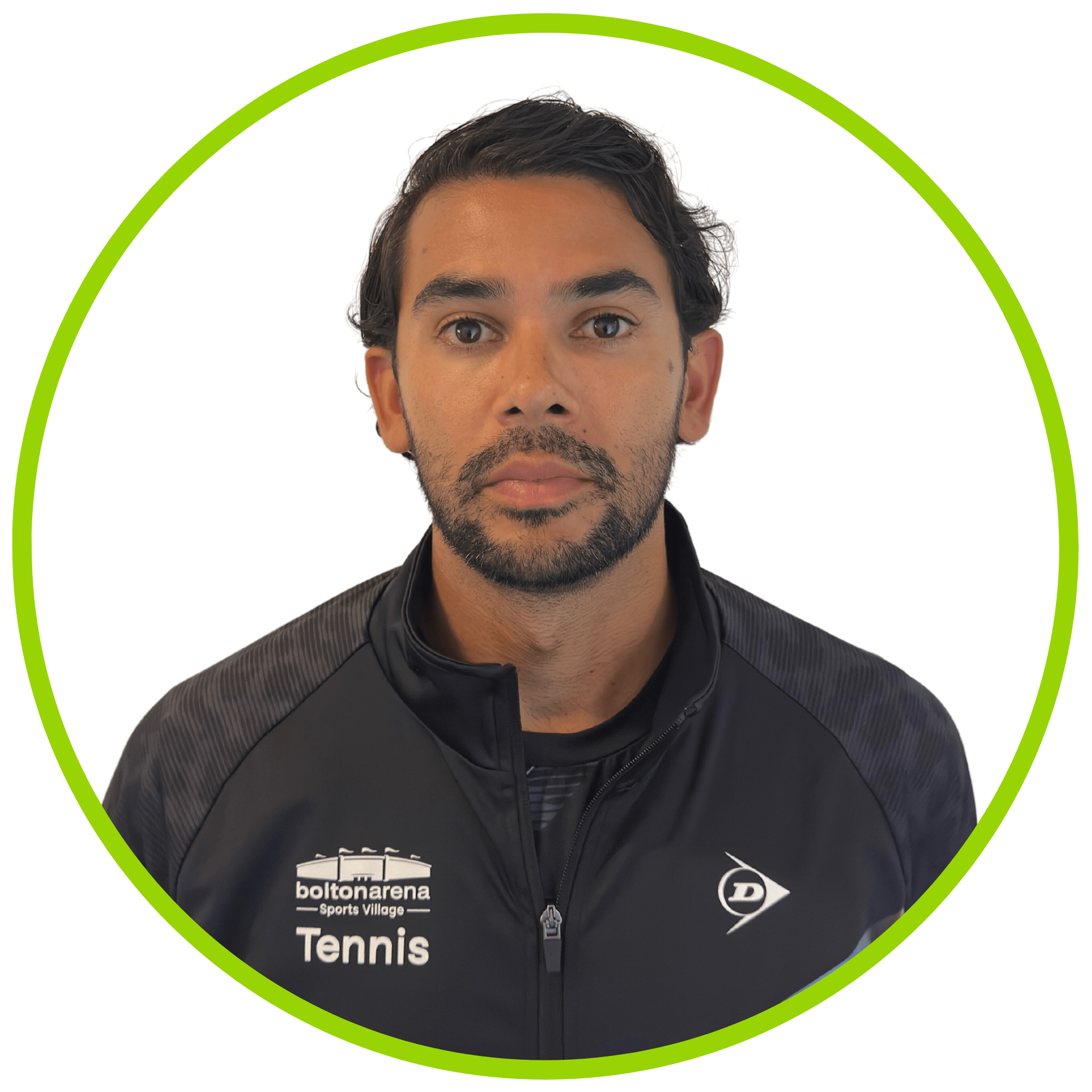 Elliott – Head of Tennis
As a player Elliot was a member of the LTA Junior National Academy at Loughborough where he won Tennis Europe & Junior ITF titles before pursuing a NCAA Division 1 Scholarship in the United states.
On returning to the UK to finish his degree he won the Mens Doubles BUCS Gold Medal and achieved a top 50 Mens National ranking. As a Coach Elliot has over 10 years experience working from club to grand slam level. Coaching players who have represented Great Britain at Junior & Senior level as well as multiple National Champions.
Throughout this time Elliot has also worked as County Head Coach for Yorkshire and worked on tour with ATP & WTA professional players. He is passionate about continuing his own personal development and making sure he provides the best possible service to the player through a person first approach.
Sabrina – Head of RPDC
Sabrina has first-hand experience of the Academy, having trained at Bolton Arena Sports Village as a performance player from aged 7 to 18. Throughout her time training here, Sabrina represented Great Britain on numerous occasions, achieving a national ranking of No.1 in Great Britain U16s.
On leaving Bolton Arena Sports Village, Sabrina gained a scholarship at Texas Tech College in America, with the college ranked as high as 5th nationally, with a personal double ranking of No.8 nationally.
Sabrina is currently a Level 3 certified coach working primarily with our U12's-U18's, providing coach support on several LTA player tournaments and assisting with junior county cup teams. As a coach her philosophy is to help develop the person alongside the player.
Howard – Head of Strength & Conditioning
Howard is the Head of Sport Science, leading a multi-disciplinary team of strength and conditioning coaches, physiotherapists, as well as sports nutrition and psychology support.
Howard has been involved with the physical development team at Bolton since 2009. This experience includes working with players across various levels including, national and international juniors, ATP and WTA professionals including a former world number one. He is an Accredited Strength and Conditioning Coach, Certified Tennis Performance Specialist, and a Ba in Sports Coaching. Prior to coaching he served six years in the Royal Marines Commandos.
His philosophy is to use his professional knowledge and varied personal experience, to run a holistic tennis-athlete development program, with the main goals of reducing the risk of injury and improving on-court performance. He is also passionate about the development and education of coaches, having presented his training methodologies across the globe at coaching conferences.
Simon – RPDC Assistant Coach | Level 5
As a junior Simon played tennis to a high level, winning various national events from 12U to 16U. He also represented Great Britain at U12, U14 and U16. Before going into coaching, Simon attended Indiana State University where he studied Business and represented the University for Tennis. He has represented Derbyshire Men's County for the past 20 years.
Simon has been coaching for 12 years in different performance environments including Loughborough University, Hills Road Cambridge, and David Lloyd Cheadle, where he ran the performance programme. Simon has coached international and national standard players, producing national champions in singles and doubles, with two players going on to represent Great Britain. In addition to his full-time coaching commitments, Simon has also been involved in Cheshire Tennis since 2011, captaining various age groups in this spell.
Simon is currently the Cheshire County Performance Coordinator. This role includes overseeing more than 100 players in County Training and helping player programmes to give the players the best chance of improving.
Dominic – Performance Coach | Level 4
As a player, Dominic spent 5 years training at Bolton Arena Sports Village on the performance programme, playing at a national level and also international level with a personal highlight of playing the Junior Orange Bowl.
Dominic has been coaching for 13 years and is now a Level 4 Performance Coach, whilst building up a wide range of experience working across different age groups and in different environments.
Prior to joining the coaching team at Bolton, Dominic was the u10 co-ordinator at Graves in Sheffield, which at the time was an LPDC.
Dominic loves working across all areas of the programme to help players achieve their goals and ambitions.
Matt – Full Time Academy Assistant Coach
As a player, Matt spent 4 years competing in both British tour and ITF Futures events. Matt still competes for the Men's Cheshire team in both summer and winter cups.
During his time as a player, Matt also started gaining his experience as a coach and is currently a Level 4 Senior Coach Performance Coach, working mainly with U12-U18 players.
In his previous role, Matt ran the performance programme at the Northern LTC, producing numerous national and international level players and has coached a player to win the National Championships 2022. Matt is the current coach of the U18 Boys Cheshire team.
Jack – Strength & Conditioning Coach
Jack has been a strength and conditioning coach for 10 years, with previous experience of athlete development at Blackburn Rovers and Liverpool FC.
An accredited Coach with UK Strength and Conditioning Association, Jack obtained a Master's degree in Strength and Conditioning at Liverpool John Moores University.
He has worked with a number of athletes who have gone on to represent their country at youth and senior level, before playing their sport professionally in adulthood.
Wayne – Tennis Co-ordinator
Wayne is the Tennis Co-ordinator at Bolton Arena Sports Village and is responsible for the managing of the Mini Tennis and Development programme.
A very passionate coach, who has been coaching since 2004 and is vastly experienced in working with U10 players, Wayne has an excellent track record of transitioning players into the Regional Training programme and is also currently the U9 Lancashire County Coach.
Wayne is a Level 4 qualified coach, with a philosophy that focuses on engaging young players to love the game through fun and challenging sessions, as well as developing players technically and improving all round match play. He has a keen eye for spotting talent and supporting players to transition from school sessions through to our Junior Academy.
Jake – Tennis Coach
Jake works on the development programme, working through all the age groups ranging from tots to adults.
Jake has been coaching since 2011 and is a level 3 qualified coach. Alongside his work at Bolton Arena Sports Village, he also assists on the U9's Lancashire County squad.
He has a philosophy of working hard to engage, educate and deliver the best sessions possible to help players progress through the programme.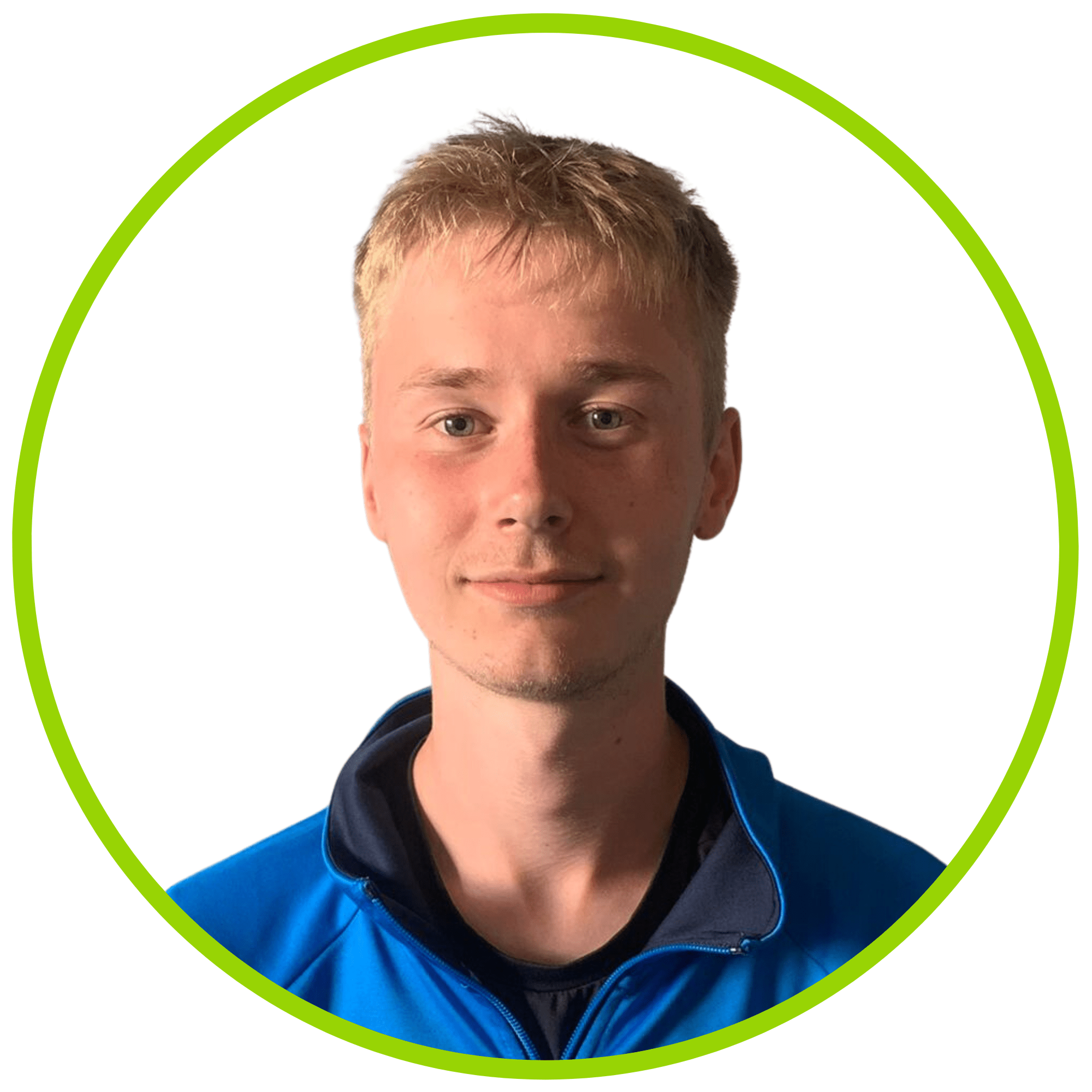 Oscar – Tennis Coach
Originally from Poole, Dorset, Oscar started playing tennis at the age of 4.
Oscar played at a regional and national level throughout juniors before going to the states on a scholarship to play college tennis.
After a year he decided to stay in the UK and began coaching at David Lloyd Poole.
During his time coaching in Dorset, Oscar was given the opportunity to assist in 9u county training, which sparked his interest in performance coaching.
Oscar decided to move to Bolton arena Sports Village with the desire to work in a tennis specific environment, surrounded by a quality team of coaches who can push him to be a better coach.
Oscar is working primarily on the development programme, whilst coaching players at development level and county/regional level on a 1:1 basis.
Oscar's coaching philosophy is ensuring enjoyment comes first, whilst making sessions challenging enough for players to progress.
Tom – Tennis Coach
Tom is a member of the development coaching team, He is a Level 3 coach, who's main roles are working across the programmes with players covering a range of ages and abilities.
Tom is a passionate and enthusiastic coach, who has been coaching since leaving college in 2015, he has great experience in introducing kids and adults to playing tennis. Tom also works on the schools out-reach and disability programmes. He is also qualified in coaching football and delivers on the Arena multi-sport camps.
Tom has a philosophy that focuses on engaging players of all abilities to love the game of tennis through fun and challenging sessions.