Game, set and match!
Whether it's fun with friends or a competitive match, we have eight high quality tennis courts for hire within our indoor tennis facility. 
You can also take advantage of our adult tennis lessons, or even opt for private tennis lessons with an LTA licensed coach. 
Weekly coaching – paid in blocks of 10-12 weeks 
Adult tennis pathways
Tennis Xpress
Aimed at adults who are new to tennis or for those who may not have played for some time.
This is a weekly session, paid in blocks of 10-12 weeks.
Coach & Play
Aimed at adults who are looking to further develop their tennis skills.
This is a weekly session, paid in blocks of 10-12 weeks.
Social Tennis
These drop-in social tennis sessions are for players of all levels.
£10.00 per session.
One-to-One Coaching
Available for all abilities. Benefit from the ability of an LTA licensed coach to take your game to the next level. 
Club Competition
Drop in sessions aimed at more advanced players who compete in the local Tennis league.
£10.00 per session.
Drill and Point
Aimed at our most advanced players. The sessions focus on challenging players in various drills and conditioned point play which focus on developing skills in specific game situations in both singles and doubles match play.
Taster sessions
Taster sessions are available if you would prefer to sample a session before committing to a block of lessons.
The cost for this is a one off payment of £6.50 for junior sessions and £8 for adult lessons.
FAQs
We offer a range of tennis memberships for peak and off peak use with a 12 month contract, which give you maximum court allowance of 2 off-peak courts per day, 1 peak court per day.
We also offer a range of tennis and fitness memberships to help you get the most out of  our facilities at Bolton Arena Sports Village.
Explore our membership options.
To speak a member of staff, please call 01204 488 104 or email memberships@boltonarena.com.
For first time bookings, call our reception team on 01204 488100.
All further bookings can be made call on our Bolton Arena Sports Village app or website portal.
You can request a login for our website portal and app through our reception team. This allows customers to make bookings and payments of Bolton Arena Sports Village's facilities without the need to contact reception.
If you already have a portal login, you can book a tennis court here.
Monday: 06:00 – 22:00
Tuesday: 06:00 – 22:00
Wednesday: 06:00 – 22:00
Thursday: 06:00 – 22:00
Friday: 06:00 – 22:00
Saturday: 07:30 – 19:00
Sunday: 07:30 – 19:00
Bank Holidays: 08:00 – 16:00
Christmas Day, Boxing Day and New Year's Day: Closed
Tennis court hire is available from just:
£11 per hour for under 18s during off-peak hours
£13 per hour for adults during off-peak hours
£20 per hour during peak. hours
If you are an existing customer, you can book your tennis court online via our web portal.
The tennis courts at Bolton Arena Sports Village are high performance indoor hard courts, to give you the best game year round.
Off Peak Times
Monday to Friday 07:00-16:00 & 21:00-22:00
Saturday to Sunday  16:00-19:00
Peak Tennis
Monday to Friday 16:00-22:00
Saturday to Sunday  08:00-16:00
Meet the team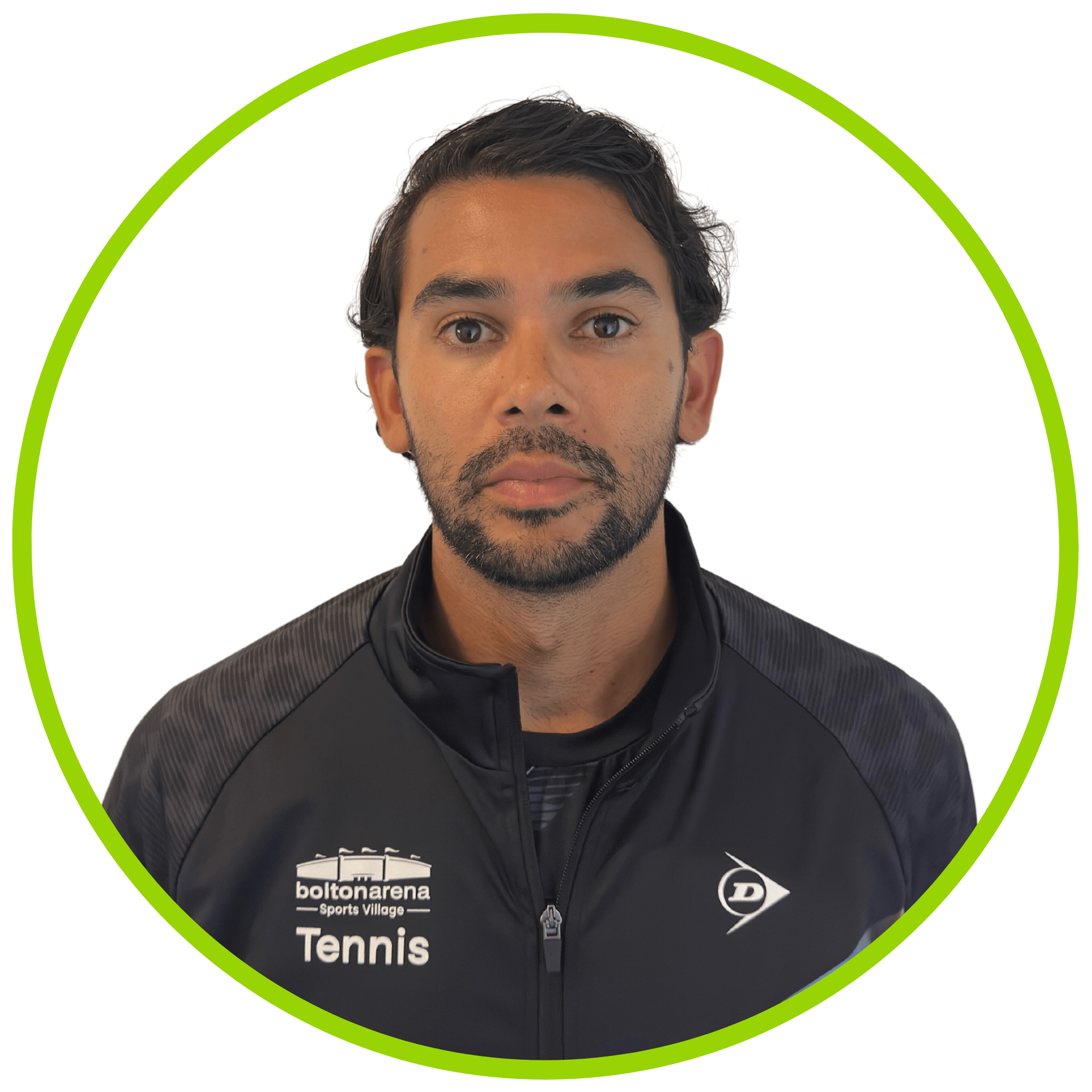 Elliot
As a Coach Elliot has over 10 years experience working from club to grand slam level. Coaching players who have represented Great Britain at Junior & Senior level as well as multiple National Champions.
Sabrina
Head of RPDC, Sabrina has first-hand experience of the Academy, having trained at Bolton Arena Sports Village as a performance player from aged 7 to 18. Sabrina is currently a Level 4 certified coach working primarily with our U12's-U18's.
Simon
Simon is currently the Cheshire County Performance Coordinator. This role includes overseeing more than 100 players in County Training and helping player programmes to give the players the best chance of improving.
Howard
Head of Strength & Conditioning, This experience includes working with players across various levels including, national and international juniors, ATP and WTA professionals including a former world number one.
Matt
Matt ran the performance programme at the Northern LTC, producing numerous national and international level players and has coached a player to win the National Championships 2022. Matt is the current coach of the U18 Boys Cheshire team.
Popular activities we deliver
Contact us
To book, please register your interest for adult tennis sessions and a member of our tennis team will be in contact with you shortly.